Written by Captain Planet
December 03, 2009 09:08
We really couldn't respect ourselves if we didn't include that video.
According to just about everything we've ever watched about the 1970's Steelers (because we were just a twinkle in our parents eyes at that point), the Raiders were once considered one of the Steelers' biggest rivals.
Apparently, at one time, Al Davis both didn't look like the Emperor from Star Wars...
AND didn't make football decisions like Eric Mangini...
But that was 30+ years ago.
Here in the 21st century, despite a few random years of success with Blue Hen alum Rich Gannon chucking the pigskin (that was for Cotter), they've been about as solid as baby diarrhea, and stunk about that much too.
Since the 2002 season, the Raiders have posted not one winning record.
In fact, their combined record of 27-80 would make the 2009 New Jersey Nets proud.
They've had five different coaches, and more disasters than the coast of Southeast Asia.
In fact, we're not altogether sure that Al Davis hasn't been giving out his medication to Raider fans in order to keep them coming to games...
That would certainly explain why he's nuttier than a Baby Ruth.
Anyways, this season, they're ranked 2nd to last in total offense (last in passing behind even the Browns and 20th in rushing) and 29th in total defense (17th in pass defense and 2nd to last in rush defense).
And yet somehow, they managed to beat the Eagles, the Bengals and of course, the Chiefs (we're gonna go ahead and say ouch for the Steelers).
But the Eagles and Bengals wins came at home in the shit, excuse us,
black
hole.
This weekend, they're stepping into our house.
Of course, we'd be bigger idiots than Al Davis to assume that just because they've scored in single digits in almost half their games, the Steelers will easily win this game.
Let's face it, when you lose to the Chiefs, you lose that right.
Nevertheless, there are few better teams to face when beginning a five game, must win playoff-hopeful run.
So, we feel it's extra important this week to get to know the current Oakland Raiders football team.
You may feel it's extra important this week to take a solid Thursday afternoon cat nap.
Either way, step into our office...
Quarterback
:
The Black Fonzie over here got benched like three weeks ago.
In his place, the Raiders have gone to Pittsburgh native, the Polish Bomber, Bruce Gradkowski...
Over the past two weeks, Gradkowski's gone 35 of 69 for 383 yards with three TDs and one INT.
Honestly, not the worst numbers we've ever seen (although completion percentage leaves about 10-15% to be desired), but who are we kidding? Gradkowski might as well put a little BBQ sauce on his helmet, because on Sunday, he's gonna get eaten up by James Harrison and company.
We'll set the over/under on sacks at 16.
And while irrelevant, we'd just like to mention that their 3rd QB is Charlie Frye...
We've missed you, Chuck.
Running Backs
:
We might as well just call Oakland "Bust City" as we now present to you, Darren McFadden. It may be too early to call McFadden a bust in only his second year but, we're dicks, so we're going to do that.
So far, the 4th pick in the 2008 NFL draft has only rushed for 205 yards and one touchdown in his second season, plagued by injury. McFadden was supposed to be "the next big thing," but has disappointed more people than the McRib.
Starting in place of an injured and unreliable McFadden is Justin Fargas. Fargas is a straight forward runner and has been a decent upgrade from McFadden but, he has also caught the common Raider "I'm a big va-jay-jay" injury bug.
The Raiders are left with Micheal Bush at running back who many uninformed Steeler fans wanted Colbert to draft in 2007. Bush broke his leg in numerous places his senior year at Louisville making
Heather Mills
a better option as an NFL running back.
Bush is a big bruising back, weighing in at 245 but, has yet to become a legit factor in the backfield.
Translation: the Steelers defense won't be letting up 100 yards on the ground, this Sunday.
Where have you gone, Bo Jackson?
Wide Receivers
:
Wide receivers?
The Raiders have receivers?
You'd never know it when their tight end has more than double the stats of any other Raiders pass catcher.
Granted, Zach Miller is a fantastic tight end.
[Obligatory butthole joke].
We guess if we had to pick a receiver on the Raiders to watch, maybe it'd be Louis Murphy?
Only because he's 2nd on the team in receptions.
And he shares a last name with Charlie Murphy...
Actually, one of the only things that really excites us about the Raiders at all is that they've got
a receiver named Chaz
.
Oh yeah, Darius Heyward-Bey was the Raiders 2009 1st round pick.
He was the only guy at the combine who
ran a faster 40 than Mike Wallace
(4.3 vs. 4.33).
Heyward-Bey = 9 catches on the season for 124 yards and 1 TD.
Wallace = 28 catches on the season for 500 yards and 3 TDs.
Who's burning who now?
Offensive Line
:

Nothing to do with the Offensive Line, this is just offensive in general...
LT Mario Henderson ~
Likes to eat pancakes and chinese food at the same time
. One pancake he won't be eating is Brett Keisel.
LG Robert Gallery ~ Is the
only player selected in the top 8 picks of the 2004 draft not to make a Pro Bowl
. Still, he's a solid left guard and has a Pro Bowl head of hair...
So he's got that going for him, which is nice.
C Chris Morris ~ Not to be confused with Chris Morris, the
gay rights activist
. This is what we got when we tried to click on a link to his bio on the Raiders website...
Always a good sign.
RG Cooper Carlisle ~ Afterwards, he and Tucker Carlson are gonna go play some squash?
Wow, if that isn't one of the WASPiest sounding names we've ever heard...
Aside from that, we really can't say too much about him aside from the fact that he's been a solid RG for 10 years
RT Cornell Green ~ Won a ring with the Bucs when they beat the Raiders back in '02-'03...won (actually, I suppose lost is more appropriate) a domestic assault charge when he
hit his babies' mama with a mop handle and shoved her against a wall
. Obviously what we'd qualify as an exemplary human being.
Defensive Line
:
"Watch your cornhole, Ben."
The Raiders recieved a boost up front when they obtained Richard Seymour from the Patriots before the season began. It's well documented how Seymour at first, refused to report to Oakland once the trade went official. We don't blame him.
As douchey as it is to be a Patriot, being a member of the Raiders is ten times worse. You go from having a shot at the playoffs to being shot at by Al Davis.
In true Raider fashion, Seymour has underperformed with only 33 tackles and 4 sacks.
Have fun in Oaktown!
Tommy Kelly and Greg Ellis help out Seymour upfront. It's fair to say neither of these dudes are the second coming of Howie Long.
Sidenote: Ellis is doubtful to play and a man named Jay Richardson would start in his place. Warren Sapp is not impressed.

This brings us to, Gerard Warren. We remember Gerard Warren. He's the flabby genuis who said
he would try to hit Big Ben in the head
, while he was a member of the Cleveland Browns. From the Browns to the Raiders? Excellent career moves, Gerard......we're not sure which one is worse?!?!
If Gerard attempts any of this crazy talk again, we are all but certain Max Starks will make sure Mr. Warren will have numerous things in common with the
Sham Wow guy
.
Linebackers
:
Usually when we dive into these previews we have prior knowledge of at least one or two players at each position. However, when it comes to the Oakland Raider linebackers, we are as clueless as Jim Zorn while calling offensive plays.
Take a look at these dudes and let us know if you've seen them make a tackle before:
OLB: Trevor Scott, 2nd season, Buffalo University
ILB: Kirk Morrision, 5th season, San Diego State
OLB: Sam Williams, 7th season, Fresno State
Backups, Thomas Howard and David Nixon don't even know who these guys are.
No wonder the Raiders are 31st in the league,
against the run
.
Shine yo shoes, Rashard!!!
Secondary
: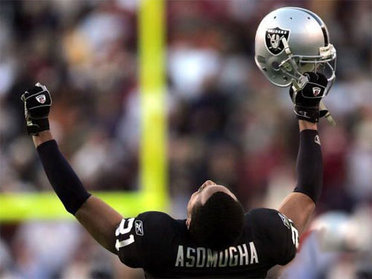 We'd like to think this would be Nnamdi Asomugha's reaction when he is finally traded out of Oakland. "Freeeeeeeeeedom!"
The best thing about the Oakland Raiders is, Nnamdi Asomugha. We know this because in 2006 he returned an interception for a touchdown, in a rare Raiders victory over the Steelers. We would embed the "youtube" video, but all game tape and records have been deleted from the 2006 NFL season. None of that stuff REALLY happened....
Believed to be the "best shutdown corner in the game," Asomugha has one interception on the season. One.
On the other side of Asomugha is seven year pro Chris Johnson. Johnson has a team leading three interceptions (tied with Huff) and has been the Raiders "most improved player" according to a drunk guy at the bar.
Tyvon Branch and former Texas standout, Micheal Huff are your 2009 Oakland Raider starting safeties.
Do you hear that? That's Sant and Hines shivering in their snuggies........ NOT.
Head Coach
:
What do you guys think - is Tom Cable...
A) Pondering remedies for global warming
B) Trying to figure out why he picked Jamarcus Russell over Jeff Garcia
C) Deciding whether he wants a Big Mac or a Filet of Fish for lunch, or
D) Thinking through his exit strategy
We're not really going to get into the whole assaulting his assistant coach thing.
Frankly, it's none of our business.
All we're going to say is - Just look at Randy Hanson (the infamous assistant coach)...
Tell us you wouldn't punch that guy in the face.
Miscellaneous
:
1. Is it just us or has Al Davis been wearing the same glasses since like 1952?
2. We've
made a huge mistake
...
3. We don't think this guy's Mother hugged him enough as a child...
4. Two wrongs don't make a right...
5. Things to do in Oakland, CA = try not to get shot.
6. There's only one Oakland Zoo that matters...
Check out the asian dude in the front row...William Hung city.
7. Excessive amount of McDonald's references today. Unexplainable.
8. This preview takes up about 1/2 the entire front page of this blog. I think it's safe to say we did work, son.
And that, my friends, is a run down of the 2009 Raiders team that will make it's way to Heinz Field this weekend.
So, thoughts???
If you haven't already,
become a fan
of OFTOT on Facebook,
join the blog network
and
follow Cotter
and
Steve
on Twitter. Or don't. Your choice, really.