Written by Captain Planet
November 19, 2009 09:56
First off, we'd like to formally apologize in advance to any Kansas City Chiefs fans who may read this post. We have never met a Chiefs fan we didn't like. These are a proud people, despite the fact that their team has been about as exciting as a mole on Dick Cheyney's ass for what seems like a decade or more. But that doesn't mean we're going to alter the way we run these team previews.
So with that said, we're going to list more important and all-around greater "Chiefs" than the fifty-three men who wear red jerseys in Kansas City -
1. The Charlestown Chiefs
(obvious choice)
If Joey Porter were still here, that's how warm-ups would go.
2. Chief Wiggum
The man who spawned Ralph Wiggum is a legend in our books.
3. The Kaiser Chiefs
Indie Alt rock is, "eh." But we'd like to think, given the choice, we'd watch one of their music videos instead of a Bobby Wade highlight film.
Still, we've never listened to one note they've written, nor do we have any firm plans to in the near future. Frankly, there's a better chance we'll listen to the Jonas Brothers...
But we were going to do that anyway...
4. Master Chief - Halo
We've never played Halo, but in a pathetic attempt to further increase our reader demographic, we dropped this video game reference. What's your usertag? Let's play online!
And last but defintely not least.........
5. THE Chief
......'nuff said.
Like what we did there?
Well, get ready for the most in-depth analysis of the Kansas City Chiefs depth chart. We've studied all week to provide you with this detailed information and an enlightened perspective on what this team does well.
All that, and horrible references that eventually lead to some toilet humor.
Won't you join us.....?
Quarterback
:
Matt Cassel...
What a haircut.
A couple of blond highlights and you've got yourself a young Lance Bass.
Anyways, the Steelers are no stranger to the $63 million dollar man.
Nor is James Harrison's foot a stranger to his asshole...
When the Steelers faced Matt Cassel as a Patriot last season, they registered five sacks (James Harrison had two), forced him to fumble twice and intercepted him twice.
If this doesn't lift your spirits, please go get laid immediately...
This season, instead of Randy Moss, Wes Welker, Ben Watson, Kevin Faulk, etc., he's working with Chris Chambers, Bobby Wade, Sean Ryan, and Jamaal Charles.
In otherwords, we hope the Kansas City medical staff will have a gurney ready.
Here's a glimpse of how his season has gone thus far...
Apparently the AFC West is the only division in the NFL who can intercept Cassel.
Aside from that fact, as you can see he's thrown for less than 100 yards twice, and has generally boasted a completion percentage that'd only make Derek Anderson jealous.
If this guy throws for more than 250 yards against the Steelers, we're not even doing a game recap on Monday.
Running Back(s)
: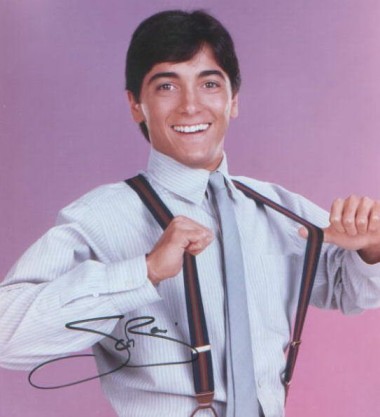 Now that Larry Johnson has left town, Jamaal Charles is..........wait for it..........in charge.
Wow. Apologies to everyone.
This second year pro out of Texas can be a productive NFL back in the league, as long as he doesn't follow the Larry Johnson career path.
Charles is more a "burner' than most NFL running back's and is one of the fastest men in the league. Hell, he received a bronze medal in the 400-meter hurdles at the 2003 World Youth Championships. There's the fun fact of the day. Go tell someone at the water cooler.
Dantrell Savage and Kolby Smith should also see some time on Sunday in the backfield. Both are young /raw and should be as affective as Mitch Berger.
Mike Cox is the Chiefs starting fullback. The thirteen year old versions of ourselves, just laughed at his name.
Wide Receivers
:
Allow us to throw a few names out at you - Chris Chambers, Bobby Wade, Lance Long, Mark Bradley, Terrance Copper.
Those are the Chiefs five options at Wide Receiver.
Chambers, you probably remember, was recently released by the Chargers. We'd be lying if we didn't find this more puzzling than how Jeff Reed's never contracted syphilis. Nevertheless, the Chiefs have picked him up and he stands as one of the only recognizable names in the Chiefs offense. Once he arrived in Kansas City, it only took him three receptions (and one game) to score as many or more touchdowns as anyone else on the entire Chiefs offense (2), save Dwayne Bowe (who has 4).
But Ike Taylor's dominated guys better than Chambers this year, and we don't expect him to do anything less on Sunday.
As for Bobby Wade, his claim to fame is either trying to start a catfight between Jay Cutler and Brian Urlacher earlier this offseason, when he was still a Minnesota Viking or
losing his starting job
as the Chiefs slot receiver to Lance Long (whose name makes him sound like a gay porn star).
Either way...
We couldn't have said it better ourselves.
Lance Long...I think we just covered that one.
Mark Bradley...no idea.
Terrance Copper used to be a Saint.
Offensive Line
:
RT Ryan O'Callaghan - How many former Patriots are currently on the Chiefs roster?
RG Andy Allerman - Who effing knows? Good alliteration, though.
C Rudy Niswanger - All we can focus on here is the part of his name that reads, "wanger."
LG Brian Waters - Enjoys the distinguished honor of having suffered through more Kansas City Chiefs games than any other active Chiefs player - 132. That deserves a medal of honor. But, despite his pro bowl career, he's 32 years old and playing on somewhat of a patchwork line. Translation - Get the oxygen tank ready.
LT Branden Albert - This rather sizable human being is what the Chiefs got for Jared Allen. Well, him and some other irrelevant later picks that the Chiefs probably used on a new mascot and a year's supply of Xanax for Todd Haley. By all accounts he's lived up to his 15th overall pick status. But he's facing the Steelers defense this week, not the Raiders. Oh, and ladies - according to the Chiefs web site,
he's single
! It's that kind of important football information we think you should know going into a game.
By the way, wanger's married.
So whether or not it's just a clever name will have to remain a mystery everyone except his wife...
And maybe Matt Cassel.
Defensive Line
:
Apparently
NT Ron Edwards
is decent, though he's played in the league for nine years and we've never heard of him.
He's sandwiched between the LSU twins - Glenn Dorsey and Tyson Jackson.
Dorsey was the Chiefs 1st round pick in 2008 (5th overall), and Jackson was the Chiefs 1st round pick in 2009 (3rd overall).
We'd like to say this unit's been solid, but the Chiefs defense is ranked 27th against the run, 24th against the pass, and they've only got EIGHT sacks as an entire defense on the season.
James Harrison just had eight sacks on his way to the can.
Need we say more?
By the way, Glenn and Tyson, when you're done in Kansas City, call us.
Linebackers
: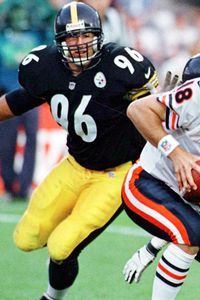 Mike Vrabel was a Pittsburgh Steeler when we were 14 years old.
Now we are super smart, mature adults with careers, and Mike Vrabel is still playing linebacker in the NFL. Advantage, Vrabel.
He may be a shadow of what he was on the Patriots but, he can still ball. Pass rushing may not be his strong suit anymore but the dude can cover the flats and still be a difference maker in passing situations.
We'd like to say we are "Vrabel fans" but that went out the window the minute he hoisted a Super Bowl trophy with the Pats. 
Our Penn State readers will be happy to see Tamba Hali on Sunday. This dude's PSU career, was amazing. He led the Big Ten with 11
sacks
and 17
tackles
for loss while leading the Lions to an 11-1 record and an Orange Bowl victory.
He was also named the defensive MVP of the 2006 Senior Bowl. Which is the equivelant of  us sending you autographed pictures of ourselves.
College career - awesome. Pro career- not so much. Hali has yet to pan out as the dominate defensive end that the Chiefs expected. Productive, yes but no Pro Bowl accolades yet.
We'll be watching, Tamba.
Demorrio Williams and Corey Mays are the starters, inside. These two have been in the league for a combined, ten years. Raise your hand if you've heard there names on TV....
That's what we thought.
"NEXT!"
Secondary
:
Please note that this is a picture of Gunther Cunningham, who is currently the Detroit Lions defensive coordinator (he was this Chiefs D-Coordinator last year).
It was just too good not to post. On to the secondary....
The corners are manned by Brandon Flowers and Brandon Carr, respectively. Two young guys who have some potential, and the possibility of having some sort of wacky "Brandon Boyz" nickname. I can see it now.
Both corners can HIT, as Flowers demonstrates below:
If he did that in College, imagine what he could now that he is all hopped up on steroids in the NFL. /sarcasm hopefully noted.
Former Chicago Bear, Mike Brown and second year pro, Dajuan Morgan are your safeties. Brown is a former pro bowler who is on the downside of his career and Morgan hasn't made a play since high school.
Morgan replaced our favorite Chief of all-time,
Bernard Pollard
, in the secondary. So in order to live up to Pollard's legacy you must commit five penalties and give up a deep touchdown to Mike Wallace on Sunday. Deal? Deal.
Just please refrain from doing any of this......
Head Coach
:
This was the "oh shit what have I done" moment for, Todd Haley.
Haley left the NFC Champion, Arizona Cardinals, for the head coaching gig of the Chiefs before this season began.
Haley is known around the league as being an offensive genius and, what could help improve that reputation more than joining a team with no offensive weapons!?!?!
Sorry Todd, you chose.... "poorly"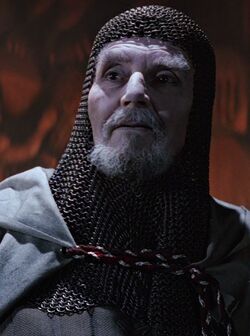 On the positive side, Haley is a young dude and should be OK if the Chiefs shower him in the off season with some offensive weapons.
On the other hand, in a league where the life-span of head coach's is shorter than the life-span of Jeff Foxworthy shows, we wouldn't be surprised if Haley was canned in a year or two.
So there you have it.
Anything we missed?